Compare Business Gas Prices 
Keep Your Business Gas Bills Low
Compare current business gas prices and complete your switch online!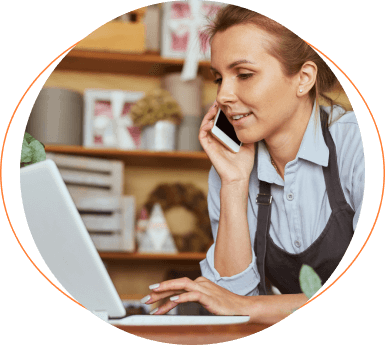 Compare Business Gas Prices From Top UK Gas Providers 




Comparing business gas prices has never been easier. You could save money and secure your gas rates in under just 30 seconds. 
We compare business gas prices from a panel of trusted business gas providers. Our expert knowledge teamed up with our innovative comparison engine makes a perfect combination to help busy businesses take care of their business gas switch completely online, any time of the day or night. We're only a phone call away if you need any further assistance. 
We specialise in finding great business gas deals to help you take control of your bills.
---
How To Get
Cheaper Business Gas Prices

?

We're starting to see business gas prices stabilise in 2023 in comparison to the previous year. Every company should be reviewing its business gas tariff and it is now a great time to compare business gas rates and search for a fixed-rate deal that meets the requirements of your business. 
We Have Completed Over
350,000 Business Gas Switches

All Over The UK

We've developed strong relationships with some of the leading business gas providers in the UK. This allows us to offer you a wide variety of great deals which can keep your business gas prices under control. With our comparison engine, you can find the latest deals without the hassle.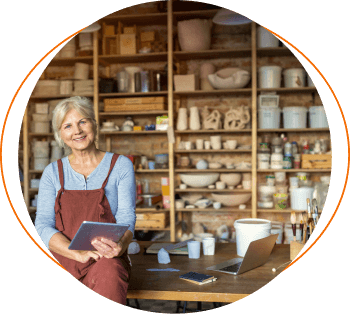 Managing Your Business Gas Prices Is Just A Few Clicks Away
Compare
The latest, live business gas prices from top UK providers
Switch
Either online or over the phone, our business gas switching process is simple
Save
Join over 350,000 customers who found a great business gas deal
For many businesses, trawling the market and searching for the best business gas deal is a hassle you could do without. We aim to make the process of comparing a wide range of business gas prices simple.
Once you've selected your chosen business gas tariff, we'll take care of the rest. Our expert team will handle the entire process to ensure your business gas switch is smooth and hassle-free.
What
Business Gas Tariffs

Are Available in 2023?

There are several types of business gas tariffs available, but most businesses will either select a variable rate or a fixed rate tariff.

The type of business gas tariff you choose will depend on your needs. A fixed-rate tariff will likely be the best option if you prefer certainty and consistent business gas prices.

If your business is particularly environmentally conscious, a green energy tariff could be a great option.

When you switch with us, you can receive advice on the right tariff type for your gas needs. Here, you can find some of the most popular tariffs offered by providers.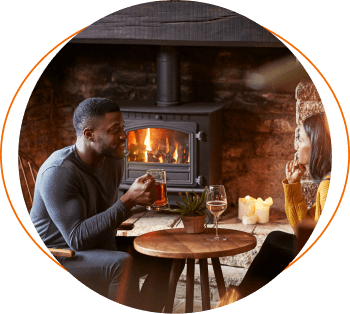 Fixed-Rate Tariffs
This is the most common tariff offered by providers. It allows businesses to lock in cheap business gas prices. It does not offer much flexibility and you are usually tied into a contract for 1-4 years.
Get a fixed-rate tariff
Variable Rate Tariffs
The price of the gas supplied to your business premises can move up and down in line with market rates. Selecting a variable rate tariff offers flexibility and could save money on your business gas prices. However, this is not a guarantee and some prefer the certainty of knowing the unit rate they will pay every month. 
To see the latest business gas prices, you should compare regularly to see if fixing is the right option for you.
Green Energy Tariff
Many businesses prioritise reducing the impact on the climate alongside finding the best business gas deal. Switching to a green business gas tariff is a huge step forward.
In the UK, green tariffs are offered by nearly every provider. Whilst doing your part for the planet, the benefits of supporting green business gas include increased corporate social responsibility messaging and can often present better business gas deals.
What Are Business Gas Prices per Kwh in 2023?
We've seen business gas prices start to stabilise in 2023, and it has now become a great time to consider reviewing your tariff. 
The prices you will see today when comparing are impacted by the size and location of your business premises; including the amount of gas supply you consume.
Larger businesses with higher gas usage can often access cheaper unit rates than smaller businesses.
Many business owners are attracted to the stability of a fixed-rate tariff and knowing what unit rates they will be paying for the coming years. Here, we've broken down the average business gas tariff by size, based on 2-year fixed-rate contracts.
Business Size
(Annual Usage)
Unit Price/kWh
Standing Charge
Annual Price (£)
Micro
(up to 5,000kWh)
12.6p
46.2p
£796.86
Small
(5,000-15,000kWh)
10.5p
51.3p
£1,764.95
Medium
(15,000-25,000kWh)
10.2p
58.6p
£2,774.12
Large
(25,000-50,000kWh)
10.1p
79.2p
£5,325.65
Very Large
(50,000-100,000kWh)
8.8p
154.9p
£9,377.41
Data correct as of November 2023. Annual cost based on a 2-year contract and the maximum kWh usage within each business size banding. These prices reflect a live market and are subject to fluctuation.
Where Can I Find the Cheapest Business Gas Prices? 
Business gas prices change daily. The best way to view live business gas rates is to compare them here. 
Here, we've provided a breakdown of the current business gas prices based on 2-year fixed-rate deals based on SME usage of 25,000 kWh per year:
|  Gas Supplier | Unit Price/kWh | Standing Charge | Annual Price (£) |
| --- | --- | --- | --- |
| | 10.3p | 45.2p | £2,728 |
| | 9p | 30.6p | £2,371 |
| | 10.9p | 25p | £2,809 |
| | 9.1p | 25.1p | £2,358 |
| | 10.5p | 152.2p | £3,180 |
| | 10.1p | 39.8p | £2,664 |
Data correct as of November 2023. Full-year prices are based on a two-year business contract commencing on October 1st with a 25,000kW annual usage. Prices reflect a live market and are subject to fluctuation.
Should I Accept My
Business Gas Renewal

or Switch?

Many businesses pay a premium on their business gas prices when they accept the renewal from their provider. Comparing the latest business gas prices is the best way to know what deals are available on the market when your renewal comes through. 

Many businesses are not aware that you can lock in new business gas prices up to 12 months before the end of the contract end date to secure better rates if they are expected to increase further in future months. 

Our experts can negotiate on your behalf to secure better business gas rates. This can often mean that you stay with your current provider but at more favourable rates.

Whether you decide to switch or stay with your current provider, we will always put your needs first to secure you the best business gas rates available from our trusted panel.
Bespoke
Commercial Gas Suppliers

for Large Businesses

If you're a large business looking to secure your next commercial gas deal, we can help you find a bespoke tariff that meets your requirements. We have an expert team dedicated to securing great commercial gas rates for larger consumption businesses and can advise on the suppliers that can meet all your requirements.

Many suppliers offer bespoke deals for large usage business, with some exclusively offering commercial gas contracts.

At British Business Energy, it's our aim to make the process of comparing commercial gas quotes as simple as possible. You can get started online with our innovative comparison engine. Our team will then be on hand to support you in finding the right commercial gas deal for your business.
| Gas Supplier | Description |
| --- | --- |
| | The largest energy supplier in the UK, British Gas offer a range of commercial gas services including meter installations and carbon-neutral gas. |
| | Crown Gas & Power is a specialist commercial gas supplier offering products for larger businesses and multi-site premises. |
| | EDF offers a range of commercial gas services including assisting businesses in meeting sustainability targets and reducing costs. |
| | Npower Business Solutions, powered by E.ON specialises in supporting large and corporate businesses including complex energy compliance. |
| | Total Energies supply more than 200,000 sites and have become one of the largest commercial gas suppliers to large business and the public sector |
| | Shell Energy provide commercial gas solutions including managing costs and assisting businesses in planning decarbonisation |
| | SSE is one of the largest commercial gas suppliers aiming to help large businesses achieve net zero and increase sustainability |
Average Business Gas Prices by Region
Updated November 2023. Based on 25,000 kWh of annual business gas consumption on a 2-year fixed rate deal. 
| Region  | Gas Unit Price (p/kWh) | Daily Standing Charge (p/kWh) | Annual Gas Price (£) |
| --- | --- | --- | --- |
| London | 10.1p | 58.8p | £2,750 |
| North East England | 10.3p | 62.6p | £2,798 |
| North West England | 10.2p | 56.8p | £2,761 |
| East Midlands | 10.3p | 65.6p | £2,809 |
| West Midlands | 10.1p | 51.4p | £2,719 |
| Yorkshire | 10.1p | 27.7p | £2,627 |
| East England | 10.1p | 56.2p | £2,734 |
| South East England | 10.4p | 70.4p | £2,847 |
| South West England | 10.4p | 72.2p | £2,868 |
| Southern England | 10.3p | 54.2p | £2,773 |
| Scotland | 10.2p | 58.4p | £2,769 |
| North Wales, Merseyside and Cheshire | 10.3p | 60.5p | £2,788 |
| South Wales | 10.3p | 58.8p | £2,750 |
Ready to Compare the Latest Business Gas Prices? 
If you switch with us, your account manager will take care of the switching process for you and help you find a deal to save money. Start your business gas quote here.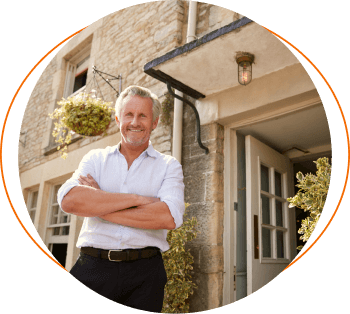 Business Gas FAQs
When Is The Best Time to Switch Business Gas Rates?

You should make note of your renewal window. This is usually up to 12 months before the end of your contract. This means you can lock in the best business gas prices earlier, but you should not switch before your contract date.

If your business is moving locations, you may be able to change business gas providers without any early exit penalties as contracts are typically attached to the premises.

How Long Does It Take to Switch Business Gas?

Once you've selected the tariff you'd like to switch to, thanks to OFGEM's Faster Switching guarantee it should take five days to complete your switch.

By switching, the entire switch will be managed on your behalf. Our experts will keep you up to date with the progress of your switch and answer any questions you may have.

Do I Have to Pay a Standing Charge?

This depends on the type of business gas tariff you select. You can choose a business energy tariff without a standing charge.

However, this is not always the cheapest option due to higher unit prices. Energy suppliers set it up this way to offset any losses from not charging a standing charge.

How Much VAT Will I Pay on My Business Gas?

VAT is charged at a standard rate of 20% on gas and electricity. If you operate a charity or not-for-profit organisation, you could be eligible for a VAT reduction of 5%.

In many cases, your gas supplier will not automatically add this reduction so it's important you contact your supplier to make sure you are receiving the full deduction you're entitled to.

What If I Have Multiple Buildings?

If your business operates across multiple locations, some suppliers may offer you a discount on your energy use. You may be eligible for a multi-site meter.

If My Business Is Home-Based, Can I Get A Business Gas Contract?

There are some instances where you can opt for a business gas tariff if you operate commercially from your home. However, there are a few things that need to be taken into consideration. 

At least 50% of the overall consumption needs to be business use but each supplier has their own benchmark. You may need to prove this by taking a meter reading at the start of the working day and then again at the end. 
You will need to have documentation of a registered business at the address. 
You will need to declare your meter as a business but you shouldn't need to install a new one. 
Whilst business gas contracts are typically cheaper than domestic, you will be paying a higher level of VAT (20% increased from 5%) and CCL (Climate Change Levy).

Is It Possible To Get Business Gas From Green Sources?

Renewable Natural Gas (RNG) comes from decomposing organic matter and purifying it for use. Currently, landfill sites are the largest source of RNG production. 

The waste goes through a process of anaerobic digestion by placing the waste in a temperature-controlled tank with no oxygen where it can be broken down to capture biomethane. This will then go through purification to produce RNG. 

Some suppliers offer gas tariffs that include RNG sources. 

What Affects Business Gas Prices?

Business gas prices fluctuate daily and are impacted by multiple factors including wholesale prices, regional location, size of the premises, consumption levers, sector, tariff and meter types. 
Speak to an Expert About Your Business Gas Prices
Call now on 020 3981 9657
Lines Open:
Monday - Thursday
9am - 8pm
Friday
9am - 5:30pm
Saturday
10am - 4pm
Sunday
Closed