Scottish Power Business Energy: Tariffs, Prices & Reviews
Scottish Power is one of the largest energy suppliers in the UK. As one of the 'Big Six' energy suppliers, Scottish Power has more than 5 million customers. A part of the Iberdrola Group, Scottish Power is a world leader in using wind energy.
This guide will introduce you to Scottish Power so that if you choose to switch through British Business Energy, you know who you are choosing.
Save time, compare Scottish Power tariffs and protect your business energy bills within 30 seconds
A Guide to Scottish Power
Scottish Power uses 100% renewable energy. As a part of the Iberdrola group, specialising in renewable energy. Scottish Power has become a leader in renewable energy. They are proud to supply green energy and generate it from their UK wind farms.
Founded in 1990 in Scotland, Scottish Power prices its products competitively to suit your business needs, and no termination notice is required. You can also spread your energy costs by paying through monthly direct debit and quarterly variable payment options. Their additional services include smart meter installations, EV charging, and energy efficiency advice for your business.
Scottish Power has been appointed by the regulator Ofgem to take on the customers of several former competitors. These include Tonik Energy, Extra Energy and Yorkshire Energy.
| Features | Service Offered |
| --- | --- |
| Online Billing | Yes |
| Direct Debit | Yes, they only accept DD payments |
| Smart Meters | Yes, existing customers can check if eligible once live |
| Mobile App | Yes, for SME customers |
| Flexible Payment Options | Monthly fixed DD, Monthly Variable, and Quarterly Variable options are available |
| Green/ Renewable Energy | Yes |
| Trustpilot Review | 3.8/5 |
| Optional Paper Billing | Yes, both paper and paperless bills are available to choose from |
| Priority Register | Yes, customers can contact Scottish Power Customer Service to update |
Scottish Power Reviews 
On the review site Trustpilot, Scottish Power has an average score of 3.8 out of 5. This is taken from more than 52,000 reviews. 63% of all reviews were either excellent (5 stars) or good (4 stars). However, 25% of all Scottish Power reviews were bad (1 star).
The comments on Trustpilot offer very mixed reviews of their customer services, some customers experienced an excellent process when they had issues, whilst others struggled to get through to an advisor. 
Business Energy Customers
Scottish Power supports a range of meters, including:
Smart Meters
Smart Pay As You Go Meters
Traditional Meters
Multi-Rate/Site Meters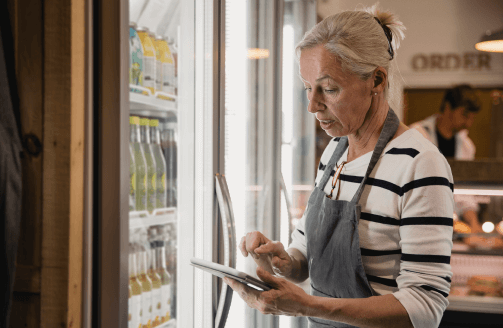 Scottish Power Prices & Tariffs
As a company that specialises in green/wind energy, Scottish Power has a range of eco-friendly tariffs available. This includes both fixed-rate tariffs (where the price may be higher but does not change for the contracted time, as well as variable rates (which can go up and down based on market forces).
Please note prices may be different when you compare live rates as they will be bespoke to your area and deals change daily. Prices from November 2023 are based on a consumption of 25,000 kWh annually. 
Scottish Power Business Electricity Tariffs 
|   | Unit Price (p/kWh) | Standing Charge |
| --- | --- | --- |
| Scottish Power Renewable For Business 2024 (1-Year Fixed)  | 28.56p | 51.26p |
| Scottish Power Renewable For Business 2025 (2-Year Fixed)  | 28.97p | 51.26p |
| Scottish Power Renewable For Business 2026 (3-Year Fixed)  | 30.44p | 51.26p |
Scottish Power Business Gas Tariffs 
|   | Unit Price (p/kWh) | Standing Charge |
| --- | --- | --- |
| Scottish Power For Business 2024 (1-year Fixed)  | 8.61p | 30.61p |
| Scottish Power For Business 2025 (2-year Fixed)  | 8.93p | 30.61p |
| Scottish Power For Business 2026 (3-year Fixed)  | 8.61p | 30.61p |
Switching to Scottish Power with British Business Energy is easy. All you need to do is get a quote through us and let us handle the harder parts. We will contact your current supplier, and let you know what you have to do to set up a switch. This might include giving a final meter reading.

About Scottish Power
Who Owns Scottish Power?

Scottish Power was formed in 1990, as part of the privatisation of previously national Scottish energy. In 2006, the Spanish energy firm Iberdrola bought Scottish Power. Iberdrola is one of the world's largest energy suppliers and the world leader in Wind Power.

Where Is The Scottish Power Head Office?

Scottish Power are not just active in Scotland. They are also active in Merseyside, Cheshire, North Wales and Shropshire. As a result, there are two main contact numbers. For customers in Scotland, the number is 0800 092 9290. For the English and Welsh regions, the number is 0800 001 5400.

You can write to Scottish Power at 320 St Vincent Street, Glasgow, G2 5AD.

When you switch with British Business Energy, we do all the contact for you. That means you don't need to get in touch with energy companies, we handle it all. There's no stress about who to contact or how – we do the work for you.

What Is Scottish Power's Fuel Mix?

All of Scottish Power's energy is generated from renewable resources. In particular, this is from wind energy. While there are other energy suppliers to offer 100% renewable energy, Scottish Power formerly owned gas and coal-based energy production. It has either closed or sold these sites off. Scottish Power says that it is committed to reducing its carbon footprint as much as it can.

What Is Scottish Power's Cancellation Policy?

To cancel a policy with Scottish Power, you need to get in touch with them. This can either be done over the phone, on 0800 400 200 between 9 am and 5 pm weekdays, or by completing a form and sending it to them.

There may be fees associated with cancelling your account, as well as your final meter reading and bill.

What Awards Have Scottish Power Won?

Scottish Power was ranked best large supplier in the Best Value for Money, Best Account Management and Best Green Services categories in the 2019 u-switch awards.