E.ON Business Energy: Prices, Tariffs & Reviews
E.ON is one of the 'big six' energy suppliers in the UK. With more than 17,000 customers in the UK, E.ON is among the largest energy suppliers on the market.
E.ON was one of the first energy suppliers in the UK to switch their energy sources over to 100% renewable.
Save time, compare E.ON business tariffs and protect your bills within 30 seconds
A Guide to E.ON Business Energy
E.ON's energy for small businesses plan is based on providing 100% renewable energy sources. E.ON have many customers in the UK, which means that they are experienced in handling the energy requirements of a lot of business industries and sizes.
Their core focus is to provide green energy that addresses customer needs and supports our environment. They state that they aim to lead the global shift in emerging technologies by helping companies reduce their carbon footprint and allowing their customers to be more sustainable at home.
E.ON currently have 5.6 million UK customers and 8,000 UK employees to provide their service. They also supply 100% renewable electricity for all their customers and have installed over 4 million smart meters to date. They plan on achieving net zero carbon emissions by 2050.
E.ON was formerly known as Powergen and was founded in 1990. In 2002, the European energy company acquired Powergen and merged it with its existing brands. These brands include energy companies in Germany, Sweden, Russia, and the US.
| Features | Service Offered |
| --- | --- |
| Online Billing | Yes |
| Direct Debit | Yes |
| Smart Meters | Yes |
| Mobile App | Yes |
| Flexible Payment Options | Monthly |
| Additional Services | Emergency Callouts |
| Green/ Renewable Energy | Yes |
| Trustpilot Review | 3.7/5 |
| Optional Paper Billing | Yes |
| Priority Register | No |
E.ON Business Energy Reviews
More than 47,000 people have left reviews for E.ON on the review site Trustpilot.
E.ON UK has an overall rating of 3.7 out of 5 stars on Trustpilot, based on around 47,000 reviews. 49% of those are 5-star reviews, whilst the other four ratings are split between 4% and 29% - overall an average experience.
Most comments from customers expressed how happy they were with the customer service they had received, whilst the recent negatives are mainly about some customers having no hot water for over 24 hours.
Business Energy Customers
Custom tariffs
Energy efficiency plans
Control your costs
100% renewable
energy as standard
Online management
Set energy goals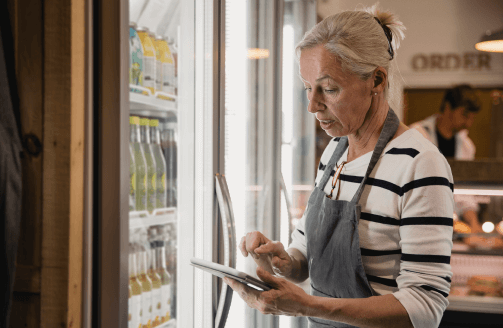 E.ON Prices & Tariffs
E.ON has tariffs aimed at small, medium, and large businesses. They offer fixed price contracts for unit prices, as well as for standing charges. Variable rates can be negotiated for larger businesses. However, smaller businesses are generally restricted to fixed tariffs.
E.ON offers one or three-year contracts to most businesses. The prices of these can be lowered by buying online, or via a direct debit.
A variety of meters are compatible with E.ON energy plans. These include standard, smart and multi.
Switching to E.ON energy is easy with British Business Energy. We take care of the switch for you – so there's nothing to worry about. When you get in touch with us, we take charge of finding you the best deal on your business energy.
Prices are changing all the time, click below to see the latest business energy tariffs available.

E.ON Business Energy FAQs
E.ON UK is owned by E.ON and is headquartered in Essen, Germany.
They operate in over 30 countries worldwide and are the world's largest investor-owned energy service provider. E.ON UK is now the largest supplier of renewable electricity following is acquisition of nPower.
Explore each section down below to get more details about E.ON and how it could benefit your business.
Who Owns EON?

The EON Energy Group is one of the largest suppliers of energy in the world.  Since 2002, when EON bought Powergen, EON in the UK has been one of the most used energy suppliers by businesses.

The CEO of EON UK is Mike Lewis.

Where Is the EON Head Office?

You can contact EON in a number of ways.

Telephone: 0333 202 4586 – to set up a new account or for a quote.

Email: [email protected]

Post: E.ON Energy Solutions Ltd, PO Box 2010, NG1 9GQ.

When you switch through British Business Energy, you don't need to worry about how to contact EON. Contact us, and we will handle it for you. With BBE, you take away the stress.

What Is EON's Fuel Mix?

EON promises that all its energy is renewable. This means that 100% of EON's energy is either created from renewable sources, offset with renewable agreements, or backed with renewable energy certificates.

It does not mean that 100% of EON's energy is produced from renewables. Some competitors can offer 100% wind or other green energy sources.

What Is EON's Cancellation Policy?

When you switch suppliers from EON to another company, you do not need to provide a final meter reading. Your new supplier will take care of that for you.

All you need to do is contact EON and inform them that you are changing suppliers.

You will need to pay a final bill of your outstanding amount. You may also be charged a cancellation fee, depending on when you are leaving your contract.

Do EON Offer Any Discounts?

The maximum prices of energy suppliers in the UK are restricted by the price cap. Ofgem, the energy regulator, sets a price cap for energy prices. In 2021, this maximum price increased. As a result, most energy suppliers raised their prices to match the increased maximum.

Current Offers & Special Discounts:

Save 4%, on your bill if you pay by Direct Debit every month
Save 2%, on your bill if you pay by Direct Debit every three months
Save 2%, on your bill if you pay within 14 days of the bill date
Ready to Find a Better Deal With E-on Business Energy?