Get a New Commercial Electricity Meter
Free meter installation when you switch supplier with us*
Working With Top UK Suppliers




Commercial electricity meters are crucial to managing usage and they can actually save you money once you have the correct one installed. When it comes to commercial electricity meters, it is not one size fits all.
Electric meter installation could be required for several reasons. Whether you're moving into new business premises or upgrading an old unit to a smart meter, they can help you become more energy efficient.
If you're not sure how to start the process of electric meter installation, our dedicated connections team has years of experience helping businesses get up and running quickly with minimal disruption.
How Much Do Commercial Electricity Meters Cost?
A new commercial electricity meter can cost around £200 – £800 as a rough guide. However, when you switch business energy suppliers with us, we can install a new business electricity meter for free in most cases*.
What Type of Commercial Electricity Meter Do I Need?
There are a few options to choose from, each offering different benefits. As we alluded to earlier, it is not one size fits all. Selecting the correct type of meter can save you a lot of money in the long run.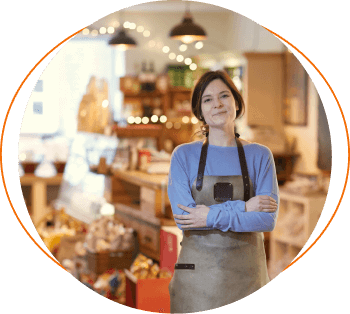 Standard Meter
This is the type of meter we're all used to. This records a single usage rate and you will need to submit a meter reading every month. In a world of convenience, this isn't the popular choice anymore but still may appeal to business owners that like more control. 
Business Smart Meter
An excellent option for many smaller businesses and has become the most popular type of meter. It is a 'set it and forget it' meter. Once installed, it automatically sends meter readings to your supplier.
Multi-Rate Meter
For businesses operating at what is widely considered off-peak (evenings and weekends), it may save you money to opt for a multi-rate meter. This allows your supplier to provide you with different unit rates during off-peak hours. For businesses that mainly operate evenings and weekends, this could save a lot of money. 
Half-Hourly Meter
Are you a large consumption business? It may be mandatory for you to have a half-hourly meter, and even if you sit just below the legal requirements for peak demand, investing in this type of meter may save you a chunk of change.
How Quickly Can I Get a New Business Electricity Meter Installed?
We understand that you will want your electricity supply monitored with your new meter as soon as possible. Our team aims to have your meter installation complete within 2 weeks. In many cases, it's much quicker. Our team will always be transparent with timelines.
How Commercial Electricity Meter Installation Works
Compare Options
We'll start with some basic business details along with some contact details so a member of our connections team can get in touch about your new electricity meter.
Select Your Meter
Our new connections team will want to understand your exact needs to make sure we're installing the correct new electricity meter for your business. 
Save With Your New Meter
Happy with your no-obligation chat? If so, we'll get to work. We aim to complete the electricity meter installation within 2 weeks. We will always be transparent with the project timelines.
Do I Need a New Commercial Electricity Meter? 
All UK businesses must have an electric meter to monitor energy usage. Whether a smart meter or a traditional electricity meter, meter readings are crucial to ensuring your business is not being overcharged for its electricity supply.
Whilst a new meter may seem to benefit energy suppliers, it also benefits companies wanting to increase efficiency and reduce the amount they're spending on gas and electricity.
Without providing regular meter readings, energy suppliers will estimate your usage. This means you could be paying more for your gas and electricity, despite not using as much as the supplier has charged.
If your usage is above 100kW during any half-hour within a day, you will be required to install a half-hourly meter. These types of meters automatically send your readings to the supplier every 30 mins. With large usage, the risk of under/ overcharging increases, so half-hourly meters are used to make sure your billing is accurate. Our connections team are more than happy to answer any questions about business energy and the type of meter that is required.
Commercial Electricity Meter Installation FAQs
What Type of Business Electricity Meter Can I Install?

Business energy can get complicated and ensuring you have the correct electric meter installed is crucial. There are a few different electricity meters available. However, higher usage businesses must install a half-hourly meter by law. Businesses are classed as high usage if they use more than 100 kWh during any half-hour within a day. Other companies may want to opt to have a smart meter installed. This means the business does not need to assign someone the duty of regularly submitting meter readings to ensure accurate business energy bills are being received.

Other business electricity meters are:

Smart meters – They automatically send readings to your energy supplier to provide accurate billing.
Standard meters – This meter measures one unit rate against your electricity consumption. You will need to send meter readings to your business electricity supplier.
Two & three rate meters – These types of meters charge different rates depending on the time of day. The cheaper rates are usually charged during off-peak hours.

Our new connections team will get to know your business to help you select the right business energy meter.

What Is an MPAN Number?

A Meter Point Administration Number (MPAN), also known as an Electricity Supply Number is for your electricity supply. A Meter Point Reference Number (MPRN) is for your gas meter.

This unique number is given to the electricity meter in your business premises. This helps your business electricity supplier identify your meter. Every new meter needs to be registered with the local distribution network operator and will be assigned one of these numbers. They will share this information with your business energy supplier.

What Information Do I Need to Arrange a New Meter Installation?

For a new connection, our team will just need some basic business details to start any meter installations. If you would like a replacement electricity or gas meter installation, we will also need your current MPAN number. If you're changing both your gas and electricity meters, we will also need your MPRN number.

What if I Need Multiple Energy Meters Installed?

If you have several business premises, we can arrange new electricity meter installation in all your buildings. We can even arrange all your premises to be on the same business energy bill by using a multi-rate meter.

This means it becomes much easier to manage your electricity connections and switching from your current supplier is much easier. You will also have a much better view of your company's energy consumption across various locations.