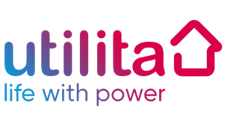 Utilita Energy Business Electricity & Gas: Tariffs & Reviews
Utilita Energy claims to be the UK's fastest-growing independent energy supplier, specialising in Pay As You Go Smart Energy. Below we have a look at their business tariffs & company profile.
Save time, compare the latest tariffs and protect your business energy bills within 30 seconds
A Guide To Utilita Energy
Utilita Energy was founded in 2003 by Bill Bullen, focussing on supplying energy to home and business customers via prepayment meters. They are the UK's first and only specialists in Pay As You Go Smart Energy, helping customers who deserve better service and affordable deals.
Unlike regular prepayment meters, their Smart Energy Monitor communicates with your business gas meter & business electricity meter, and displays all of your energy usage in one place, in real-time. They may be a good choice if you or your business has no credit history or a lower credit score.
The meter can also display past usage, current tariff information, and how many days of credit you have left. Their Smart Pay As You Go (Smart PAYG) plan is popular with most customers. You can top-up online, over the phone, via an app, SMS, or at any PayPoint location.
Additionally, they offer Emergency and Friendly Credit to avoid running out of credit at night, over the weekend or during bank holidays. You can also switch to another payment method as they offer Direct Debit and Pay on Receipt plans.
Utilita Energy Reviews
Utilita Energy has an overall rating of 4.2 out of 5 stars on Trustpilot, based on around 85,000 reviews. 72% of those are 5-star reviews, whilst the other four ratings are split between 2% and 16% - averaging as a great experience. Most comments from customer state how they received excellent customer service after experiencing issues and how they resolved any problems over the phone.

Utilita Energy FAQs
Who Owns Utilita Energy?

Bill Bullen started Utilita Energy in 2003, challenging the Big Six energy suppliers. They were the first company in Great Britain to install smart electricity meters in households and moved on to be the first to install gas and electricity smart meter systems. 

Partnered with Secure Meters, an Indian supplier of smart meters, who hold roughly two-thirds of the company's shares, while Bill Bullen retains 20%. Utilita Energy is also known for sponsoring English football kits.

Where Is The Utilita Energy Head Office?

Utilita has its headquarters in Chandler's Ford, Hampshire. They also have Energy Hubs in Gosport, Southampton, Ise of Wight, Derby, West Bromwich and Edinburgh, supplying domestic and business energy.

How Can I Contact Utilita Energy?

When you switch through British Business Energy, we can handle all the contacts with your new supplier, so you can focus on running your business. However, should you ever need them, please find the detail below.

Customer Care Team Phone: 01962 891 160

Customer Care Team Email: [email protected]

Customer Care Team Address: Freepost RTXA-BEUG-KLGH, Utilita Energy Limited, Hutwood Court, Bournemouth Road, Chandler's Ford SO53 3QB

On their website, should you need to escalate any issues further, they provide contact information for Ombudsman services and Citizens' Advice.

What Is Utilita Energy's Cancellation Policy?

For their business energy customers, the terms differ slightly from domestic users. If you have a fixed-term contract, you can cancel it at any time during, upon the expiry of the fixed term or after it expires. You may be required to pay a termination fee if you cancel before the end of your term when switching to another supplier. The figure will show as a charge to your bill.

If you are moving to a new premise, you need to inform them in writing to [email protected] or Utilita Energy, 45-46 Lanswoodpark Business Centre, Broomfield House, Broomfield Road, Elmstead Market, CO7 7FD before your move and pay a termination fee if ending a fixed-term contract before it ends.

For more information on their commercial energy cancellation policies, you can find it on their website.

How Are Utilita Energy Prices Regulated?

Utilita's energy prices are regulated by Ofgem, the independent regulator responsible for calculating the energy price cap. Utilita then reviews its pricing and keeps it in line with the Ofgem price cap.

Utilita Energy Business: One Price Fits All Tariffs
12 or 24 month fixed price contract for both electricity & gas
Same price whether you pay by Pay As You Go, by Direct Debit or to Pay on Receipt
Flexi Pay means you can switch how you pay at any time
Free smart meter with Smart Energy Monitor
Out of Contract / Deemed Electricity Prices: 17p/kWh + 35 p/day standing charge
Out of Contract / Deemed Gas Prices: 5p/kWh + 35 p/day standing charge
Ready To Find A Better Energy Deal?