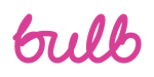 Bulb Business Energy: Prices, Tariffs & Reviews
Save time, compare the latest tariffs and protect your business energy bills within 30 seconds
A Guide to Bulb Energy
In 2022, Bulb Energy was bought by Octopus Energy and all their customers were transferred over to an Octopus Account. 
Bulb was run as a 'Community'. This means that customers could ask questions online about their specific account. They also had an input into how the company is run.
Bulb Energy Reviews
Bulb Energy has a score of 3.96 out of 5 on the review site Trustpilot. This comes from more than 80,000 reviews. 85% of all reviews were rated as 'Excellent' or '5 stars'. Only 7% of all customers rated the company as 'Bad' or '1 star'. However, these are not all business energy-specific reviews.
The comments from customers state how the transition from Bulb Energy to Octopus Energy was very simple and how customer services has improved massively.

Bulb Energy Prices & Tariffs
Bulb no longer supplies business electricity as it is in the process of merging with Octopus Energy. 

Who Owns Bulb Energy?

Bulb is owned by Octopus energy as of 2022.

The energy supplier was founded in 2015 by two energy industry workers, Amit Gudka and Hayden Wood. They operate in the UK, as well as Texas, Spain and France.

Bulb has its headquarters in London, and upon its acquisition it had 1.7 million customers in the UK making it the UK's seventh largest energy supplier.

Where Is The Bulb Head Office?

You can contact Bulb in a number of ways. Their headquarters is at
Bulb,
UK House,
5th Floor,
164 - 182 Oxford Street,
London W1D 1NN

and you can write to them here.

You can call Bulb at 0300 30 30 635.

You can email Bulb via a form on their website.

Bulb prefer you to contact them digitally – via the live chat function on their website. You also have the option of making changes and readings via your account online.

When you switch with British Business Energy, you don't need to worry about how to get in touch with your supplier. We take care of that for you, so that you can focus on running your business.

What Is Bulb's Fuel Mix?

Bulb doesn't offer a specific green energy tariff. This is because they promise that 100% of their electricity is renewably generated. They also promise that 100% of their gas is carbon neutral. This usually means carbon offset – rather than renewably sourced.

What Is Bulb's Cancellation Policy?

Bulb promise that they do not charge cancellation or exit fees for leaving. This is part of their commitment to making energy simpler.

To leave Bulb, you need to sign up with a new supplier. That supplier will then take a meter reading and send it to Bulb. You should then receive a final bill within 6 weeks.

How are Bulb's prices regulated?

The maximum amount that an energy company can charge is set by the energy regulator, Ofgem. Ofgem set this 'price cap' to limit the maximum amount you need to pay. As a result, most energy suppliers charge around this price cap amount.

What are Bulb's region price variations?

Not all regions of the UK pay the same for their energy. This is because different areas produce different amounts of energy. Areas that produce more energy tend to receive lower prices for their energy. Areas that produce less energy tend to receive higher prices.
Ready To Find A Better Deal?