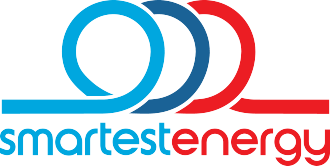 SmartestEnergy Business Energy: Prices, Tariffs & Reviews
SmartestEnergy is a leading UK independent business energy supplier specialising in renewable business electricity. Below is information about Smartest Energy contracts, their rates and prices for businesses, and reviews from real customers.
Save time, compare the latest tariffs and protect your business energy bills within 30 seconds
A Guide to SmartestEnergy
SmartestEnergy is a next-generation energy company that helps smart businesses and independent generators actively manage their approach to energy. They provide gas and electricity to small and medium-sized enterprises (SMEs). They also provide businesses with the products and tools they need to hit net-zero targets, including smart meters and a web analyser service to help business owners better understand their energy consumption.
SmartestEnergy has been helping to shape the energy landscape in the UK since 2001. They supply business electricity to large businesses, complex portfolios, the public sector, and mid-market companies. From small beginnings as a generation aggregator to supplying industrial and commercial enterprises in 2008, they now work with over 600 independent renewable energy generators to provide electricity.
In April 2023, SmartestEnergy launched its new brand identity, focussing on empowering a greener generation. They acknowledge that the path to 100% renewable energy has many complexities, and their customers and potential new customers are all at different stages in this journey, so they are evolving their products to reflect and accelerate the adoption of renewables.
SmartestEnergy's fuel mix for 2021/2022 outputted 66.4% renewable and 33.6% non-renewable, with 4,831 GWh renewable energy volume supplied.
The business electricity company's current renewable tariffs developed with support from the Carbon Trust, emphasised focus on customers, supporting independent generations, and smarter energy usage.
SmartestEnergy Reviews
SmartestEnergy has an overall rating of 3.9 out of 5 stars on Trustpilot, based on around 1,500 reviews. 67% of those are 5-star reviews, whilst the other four ratings are split between 1% and 23% - averaging as a great experience. Most comments from customer state how easy it was for them to switch over to SmartestEnergy and how their customer support was easy to speak with someone. However, some customers found cancelling their contracts difficult, based on current reviews.

SmartestEnergy FAQs
Who Owns SmartestEnergy?

SmartestEnergy is a wholly-owned subsidiary of the Marubeni Corporation of Japan. The company's global energy expertise and financial backing support the knowledge and experience in the UK energy market.

Where Is the SmartestEnergy Head Office?

The SmartestEnergy UK head office is in London's Canary Wharf:

SmartestEnergy Limited
The Columbus Building
7 Westferry Circus
London
E14 4HD

Their UK office locations are Canary Wharf and Ipswich for SmartestEnergy Limited and Worthing and Manchester for SmartestEnergy Business Limited.

They also have headquarters in Syracuse, New York and Sydney, Australia.

How Can I Contact SmartestEnergy?

When you switch through British Business Energy, we can handle all the contacts with your new supplier, so you can focus on running your business. However, should you ever need them, please find the detail below.

Smartest Energy Reception: +44 20 7448 0900

Business Customer Services: +44 1903 703 400

Business sales enquiries (SmartestEnergy Business): +44 1903 250 076

Industrial and Commercial sales enquiries: +44 1473 234150

Generators sales enquiries: +44 1473 234157

For meter or data-related disputes or any other complaints: +44 20 7448 0900

What Is SmartestEnergy's Cancellation Policy?

There are varied procedures for cancelling your contract with SmartestEnergy. If you are on a SmartFlex Tariff, you are free to leave without any termination fees, provided you give them the required notice in writing and that any outstanding sums are paid.

For full details on their cancellation policies on what will apply to your business, you can find comprehensive terms and conditions on their website.

SmartestEnergy Business Prices & Tariffs
Please note prices may be different when you compare live rates as they will be bespoke to your area and deals change daily.
Prices from November 2023 are based on consumption of 25,000 kWh annually.
SmartestEnergy Business Electricity Tariffs
|   | Unit Price (p/kWh) | Standing Charge |
| --- | --- | --- |
| SmartestEnergy SmartFIX 1-Year Term | 27.16p | 23.26p |
| SmartestEnergy SmartFIX Renewable 1-Year Term | 29.27p | 24.42p |
| SmartestEnergy SmartFIX 2-Year Term | 27.60p | 23.26p |
| SmartestEnergy SmartFIX Renewable 2-Year Term | 29.55p | 24.42p |
| SmartestEnergy SmartFIX 3-Year Term | 29.64p | 23.26p |
| SmartestEnergy SmartFIX Renewable 3-Year Term | 31.36p | 24.42p |
SmartestEnergy Business Gas Tariffs
|   | Unit Price (p/kWh) | Standing Charge |
| --- | --- | --- |
| SmartestEnergy SmartFIX 1-Year Term | 9.01p | 25.1p |
| SmartestEnergy SmartFIX 2-Year Term | 9.14p | 25.1p |
| SmartestEnergy SmartFIX 3-Year Term | 9.19p | 25.1p |
Renewable Electricity Supply Products Summary
Renewable Standard: certificate-backed 100% renewable electricity from a variety of sources.
Natural Renewable: certificate-backed 100% renewable electricity generated by just the wind, sun or water.
Specific Renewable: a bespoke product which allows you to choose your preferred renewable generation source, backed by the relevant origin certificates.
Products developed with the Carbon Trust
Purchase and match Renewable Electricity Guarantee of Origin (REGO) certificates.
Other Smartest Energy Business Electricity Tariffs
Summary
FlexiBase: Direct access to the wholesale market electricity allows you to actively manage your purchasing strategy.
Group FlexiBase: Same as above, but for businesses with multiple sites.
FlexiBase Dual Meter: Group all your half-hourly and non-half-hourly sites onto the same contract.
EnviroPass: Passes through Government Taxes and Levies at the published rates.
SmartDSR: Demand Side Response helps reduce energy use and environmental impact.
Ready to Find a Better Energy Deal?